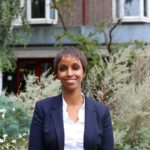 We would like to introduce you to the members of our School and show the diversity of the themes that are studied within it. Every month, the mini-interview gives you a glimpse into one research project. This edition: PhD candidate Yusra Abdullahi (Leiden University).
What is your research project about?
'I am currently working on the project 'African Activism at the UN,' which investigates the development of self-determination in Africa and the role the United Nations played in both promoting and hindering this principle between 1957 and 1980. I am interested in the ways in which Ghanaian, Ugandan, and Zimbabwean activists drew upon Pan-Africanism and Black nationalism to be non-compliant with overtly unequal racialized systems within and outside of the UN. My project also investigates the contestations between the UN and non-state actors like the Rwenzururu Movement. By providing a didactic framing of African agency in Western-dominated spaces, I hope to offer insights into how Africans, rather than give in to limiting systems, surpassed the constraints of Black agency and significantly contributed to the shaping of global affairs as they created a dignified niche for themselves in the international system.'
Would you describe your project as political history? Why (not)?
'My PhD project sits firmly in the fields of diplomatic history and international history, though a case can be made for its relevance in political history as I study certain movements, state actors, and relations between states. '
What do you like most about your project?
'One of the most enjoyable aspects of my project is the opportunity to visit some fascinating archives, including those at Mountains of the Moon University. Finally, my project allows me to think about what it means for invisibilized actors at the UN (like the Rwenzururu Movement) to be not only included but centered in new histories of the United Nations, which is exciting.'